FOR ANNOUNCEMENT PURPOSES ONLY
Tower 1 few units left!
Tower 2 will launch this February,2010!
SM Development Corporation will soon launch a 5 - Star Quality Residential Condominium Project,
JAZZ Residences ,Located at Jupiter St. Cor. Nicanor Garcia St. Brgy. Bel-Air, Makati City....

Own a Makati Condo "FULLY FURNISHED" with 20% Downayment at 3 yrs straight @ 0% interest. We will give our buyers a Deferred Privilege Reservation to avail of its Pre-Launching Price.

Lot Area : 2.5 Hectares
Number of Towers : 4
Number of Floors : 41 Storeys Each (w/ Green Architecture where home are aspirational)
Hallway : Double - Loaded Corridor 1.8 meters ( well - lighted w/ glass / natural lighted)

About Us

When you live this high above Makati, everyday worries simply melt away.

Upbeat and lively – these words best describe the lifestyle offered by Jazz Residences. Located on Jupiter Street corner Nicanor Garcia, Jazz Residences is just a stroll away from Sen. Gil Puyat Avenue in the country's premier business district of Makati City.

The condominium complex features four 41-storey buildings, each one with an unobstructed view of surrounding cityscape.

Prospective residents can choose among four different one-bedroom units and a two-bedroom unit.

Residents can readily enjoy the variety of Makati's restaurants and bars, making nightlife more exciting than ever.

At Jazz Residences, you can live the thrilling high life, high above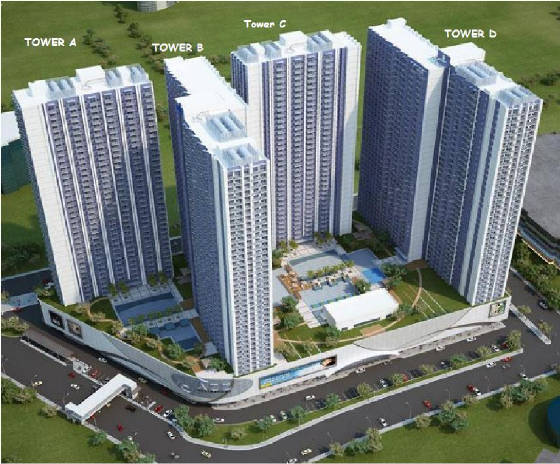 Location: Jupiter St. corner N. Garcia St., Makati City
Number of Towers: 4
Number of Floors per Tower: 41 floors

FOR ANNOUNCEMENT PURPOSES ONLY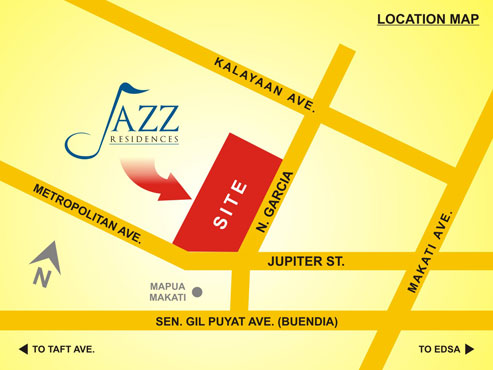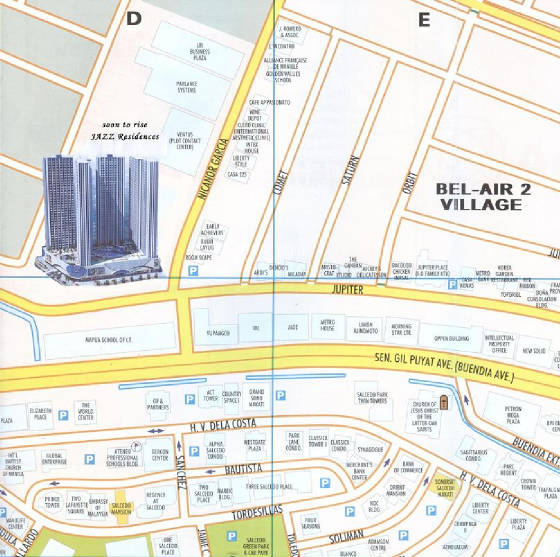 Project Concept

Tower 2 Jazz Residences now accepting LETTER OF INTENT (LOI)

Five Star Homes made Affordable

Full Lifestyle commercial area on the Ground floor

BPO (call centers) at the podium level, CBRE will handle the property management (leasing) one of the biggest SM Hypermarket will be at the ground floor a bridgeway from the Building to Salcedo (swipecard and finger print system will be provided exclusively for unit owners for Security Purpose)

Amenities / Facilities:
huge 2 swimming pools

Clubhouse

Fully Equipped Fitness Gym

Sky Lounge at the Penthouse
Jazz Residences aka Jupiter Residences in Jupiter Street cor Nicanor Garcia (Reposo St) has 4 towers with 4-level podium.
Ground floor will be full lifestyle commercial area.

2nd floor will be half commercial and half-BPO office.

3rd will be public parking,

while 4th will be parking exclusive for residents.

Amenities in the 5th floor.

All Units will be delivered fully-furnished or finished.

From the 2nd floor, there will be a bridgeway going to Salcedo Village, directly crossing Buendia. Road widening of Reposo St. most likely.
BUILDING FEATURES
Green Architecture Concept Building Design

Bridge-way Leading to Salcedo Village

Sky Lounge at the Penthouse

Four (4) elevators (for Tower 1)

Two (2) Service Stairs

Spacious Lobbies

Wide Hallways (1.8 meter wide)

Garbage Room

6-meter wide 2-way interior road
Jazz Residences will be the last hi-rise project in Bel-Air Village. It is envisioned to compete with Rockwell Strip. 4 towers of 40-storey each. Entire podium delivery in 18 months; bridgeway in 12months.

Location:
corner of Jupiter St. and Nicanor St. ( formerly Reposo St.) Bel-Air Village, Makati City

has an area of 2.5 hectares in land area
Unit/s sizes:
1 Bedroom unit 25 sqm with out balcony

1 Bedroom 26 sqm. with balcony

1Bedroom 28 sqm. corner unit

2 Bedroom unit 48 sqm. tandem of 1 Bedroom unit

24 to 26 units per floor

4 Buildings

2 Buildings at 35 storey

2 Buildings at 40 storey
Price Range:
an indicative price of per sqm.

P700,000-750,000 podium parking

an estimate of 60 -80 pesos per sqm. for the monthly dues
Payment Terms:
Option 1: No downpayment 20% in 36 months 0% interest, 80% balance upon turn over payable thru bank or in-house financing
Option 2: 20%DP spot w/ discount, 80% balance payable in 36 months 0% interest
Option 3 :10%DP spot, 10% in 24 months 0% interest, 80% balance upon turn over payable thru bank or in-house financing
Option 4: Outright Cash in 30 days w/ 14% discount
CLICK THE PICTURE TO ENLARGE;