Simple. Elegant. Luxurious.
And master--planned for convenience.


Property Management services are also available for a variety of needs, like unit leasing, handyman services and general housekeeping. Enjoy these services for reasonable rates.

Welcome to Sun Residences. Where bold, minimalist architecture meets luxury and convenience. Here spacious, comfortable units will be a mere elevator ride away from shops, restaurants and a supermarket. A podium level will feature luxurious amenities and leisure areas to provide a relaxing atmosphere.

About Us

Life meets luxury at the gateway between Quezon City and Manila.

Experience the vibrant warmth of living right in the heart of the metropolis.

Sun Residences is located along Espaņa Boulevard corner Mayon Avenue, Manila – more famously known as Welcome Rotonda.

Enjoy easy accessibility to schools, medical institutions, and commercial establishments.

The two 43-storey tower offers a studio, 1 bedroom or 2 bedroom units to make life more comfortable for would-be residents.

Indeed, at Sun Residences, life meets luxury at the gateway between Quezon City and Manila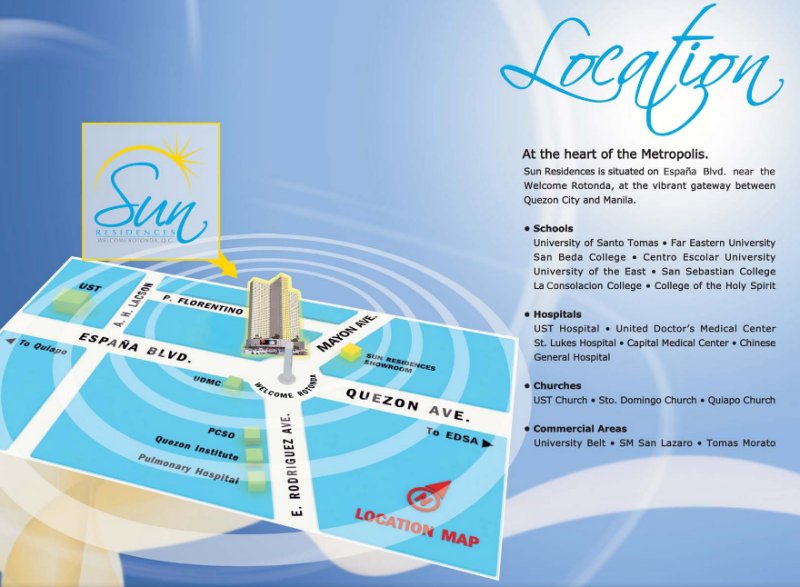 Location: Espaņa Boulevard corner Mayon St., Quezon City (Across Welcome Rotonda)
Land Area: 11.832 s.qm.
Number of Towers: 2
Number oF Floors per Tower: 43 floors